"I just want to make sure that you have an opportunity to live a life. Being able to experience life in itself is such a blessing, and I think that being able to provide that to someone else would be such a blessing."
The UCCS Bookstore wouldn't be able to function without 28-year-old student employee Soledad Anglada. As the Bookstore's general merchandise assistant buyer, Soledad, or Sole as she prefers to be called, assists in the buying processes, building purchase orders and with vendor communication.
Clocking in working 25 hours a week combined with a heavy course load from her biology major with special education emphasis, you'd wonder how Sole does it. Add a traumatic brain injury from a snowboarding accident two years ago to the mix and you'd demand to know her secret.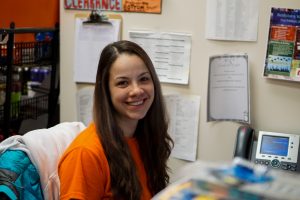 For Sole, nothing motivates her to succeed like her desire to give back in her career. After graduation, Sole's dream is to attend medical school in Switzerland, a leader in healthcare, so that she can take the skills she learns there and lend them to less-fortunate countries who may not have the same access to healthcare as we do.
"I've always been driven to give back. My big thing is I love helping people and coming from a background where my socioeconomic was pretty low, being able to provide medical attention to kids that may not have access to it is a goal of me," says Sole.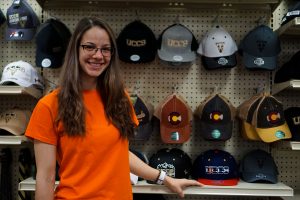 Achieving these goals takes extra effort in Sole's case. In February 2017 Sole was in a snowboarding accident in which she caught a heel edge and hit the back of her head on a slab of ice. Fortunately she was wearing a helmet, but the accident shook and bruised her brain. As a result, Sole's ability to take care of herself was severely impaired as she suffered from short-term memory loss, difficulty processing emotions, memory recall, and her existing narcolepsy was amplified. Providing for herself proved too much at the time and Sole had to withdraw from her classes at UCCS.
Sole describes her return to UCCS as difficult. "Sometimes I feel like I get better and other days I have migraines. I take lots of medications daily to make sure I'm not falling asleep and that I can focus. It's pretty bad. But, you know, such is life. It could be worse. It could be a lot worse."
With support from disability services on campus, understanding professors, and her own personal drive and determination, Sole has been able to not only return to school, but succeed. A recipient of the Schuman Scholarship at UCCS, Sole only has one more year left of school until she's able to pursue her dreams of studying medicine.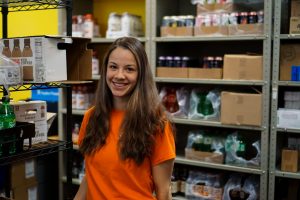 When she's not working or in class, Sole finds herself back on the slopes. Shocking as it may seem after her accident she swears by its therapeutic effects. "It's a challenge, but once you get the hang of it, you feel like you're floating – like you're in control. It feels so empowering to have this one getaway when you've dealt with so many setbacks and obstacles in life and feel like so many things are out of your control."
Faces of UCCS is a series by Auxiliary Services Marketing highlighting outstanding student employees in the various Auxiliary Services departments. If you have a student you would like to nominate to be featured, email Jacob Guilez at [email protected].